Thursday, 18 September 2008
...starting tomorow... private view on monday, see below: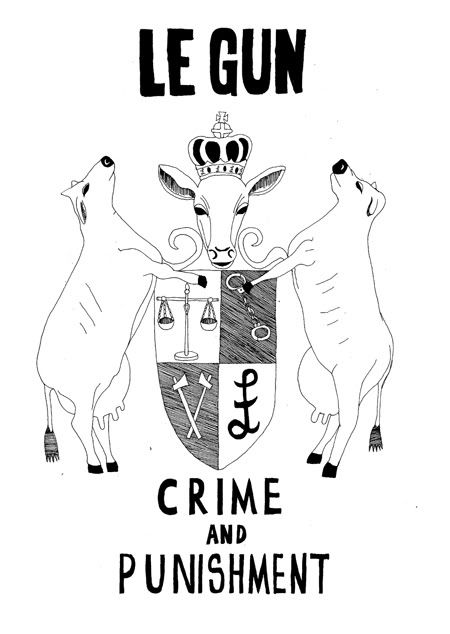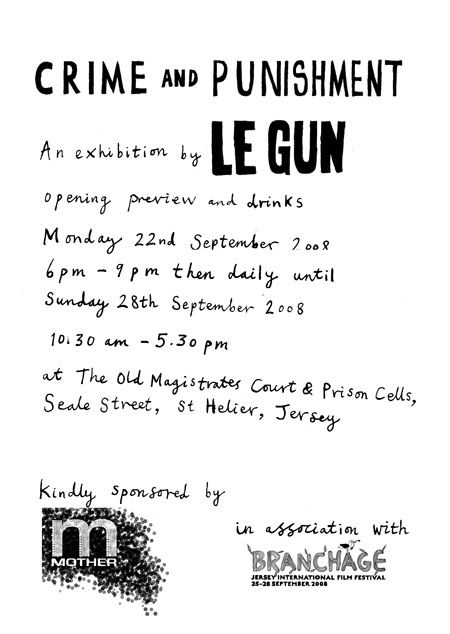 Posted by

steph vr
at 23:08
No comments:

Wednesday, 17 September 2008
Here's some pictures (at last!) of the LE GUN - The Family exhibition at the Rochelle School. Thanks to
Michele Panzeri
, photographer extraordinaire ...
entrance area... featuring the work of many Le Gun contributors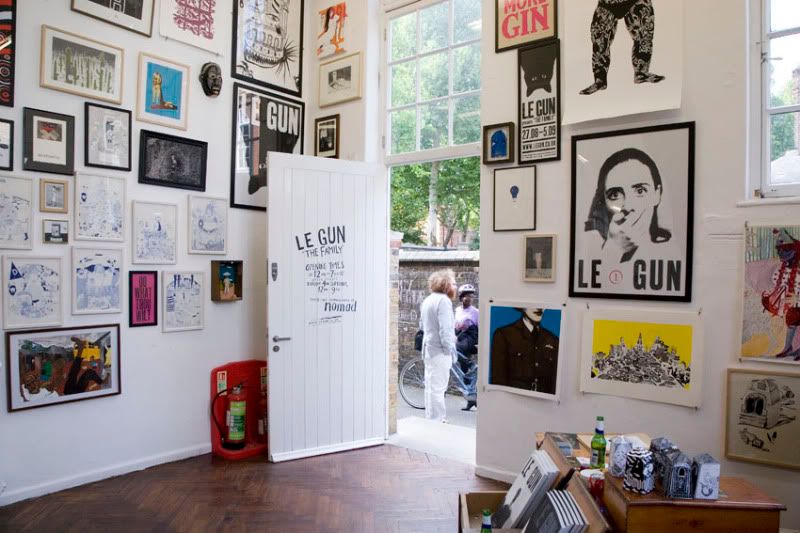 and of course a giant cat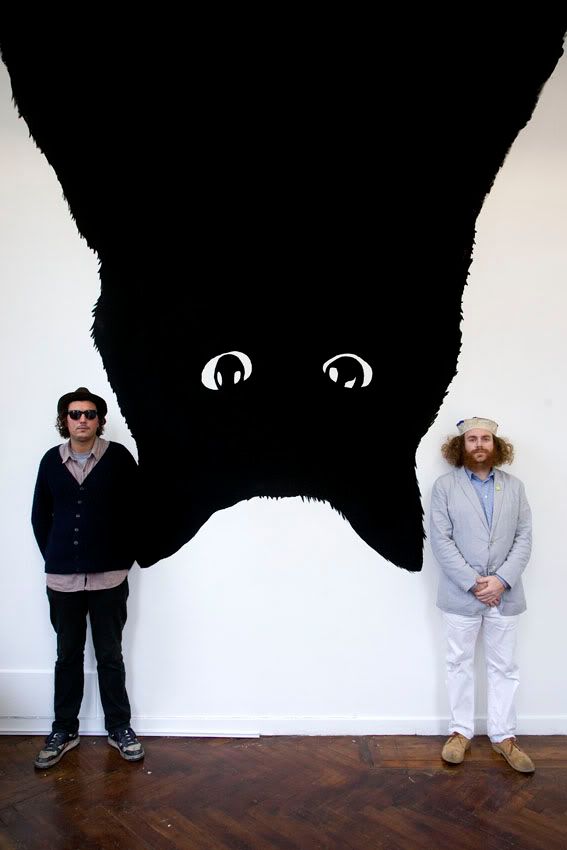 more salon walls... featuring more work
vista of some of our gigantic canvases (we did 4 of them, 30m in total)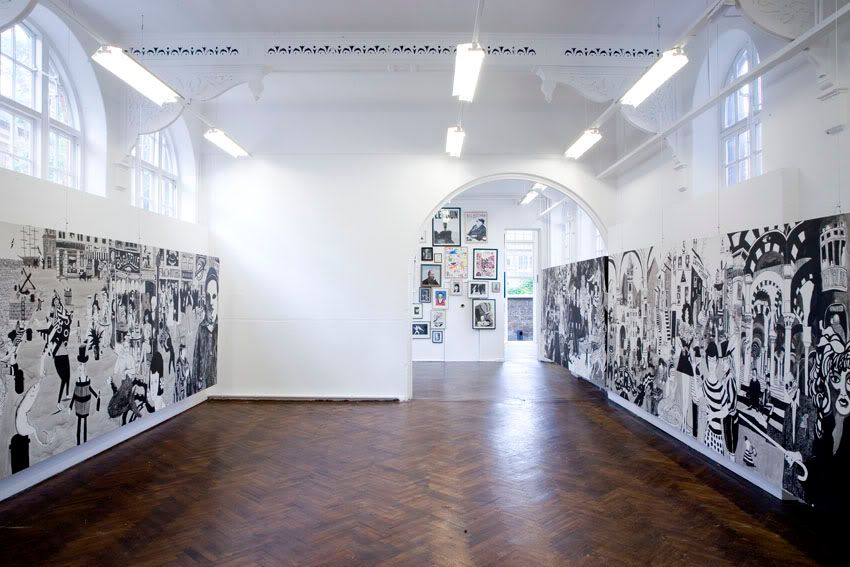 a 10m stretch (the family leaving LeGundon and crossing the sea)

another 10m stretch - the interzone

the Cardboard Room, brainchild of Bill Bragg, assembled with the help of a bunch of Chelsea students on summer break. They did a sterling job with the construction following Bill's plans, we then painted everything. (The sofas, arm chairs and piano stool were fully functional btw!)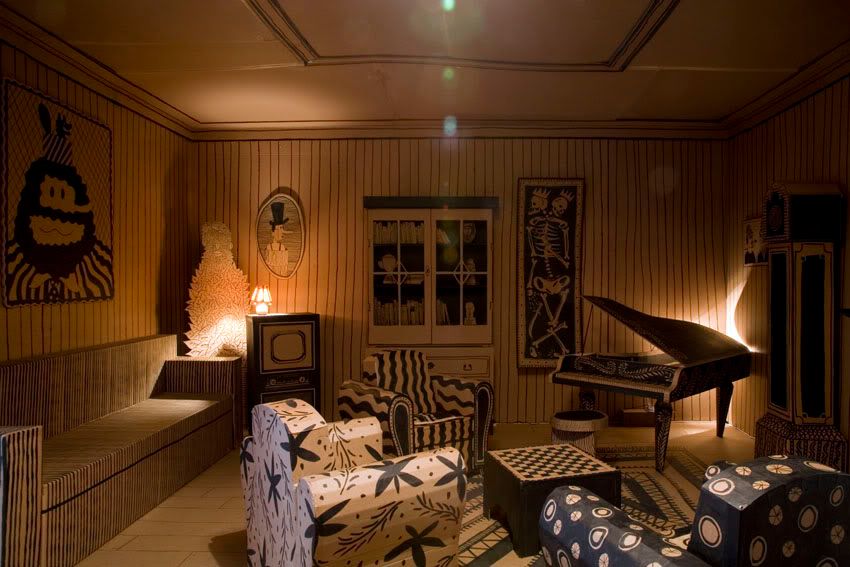 my personal pride & joy - the grand piano, aptly named 'Schlampenpupsen' (Whore's Fart)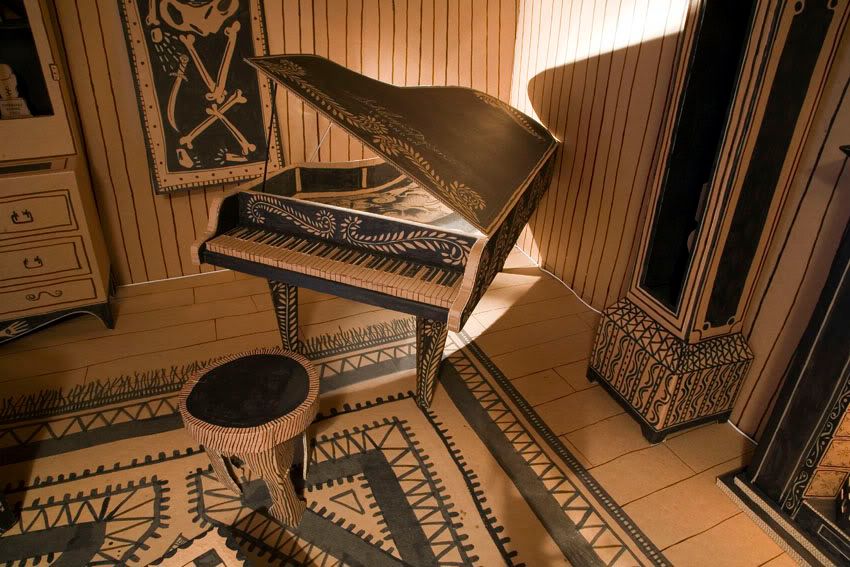 Inside the piano - an elegantly wasted lady surrounded by various musical demons (Tobi Tak & J M F Casey helped me paint those)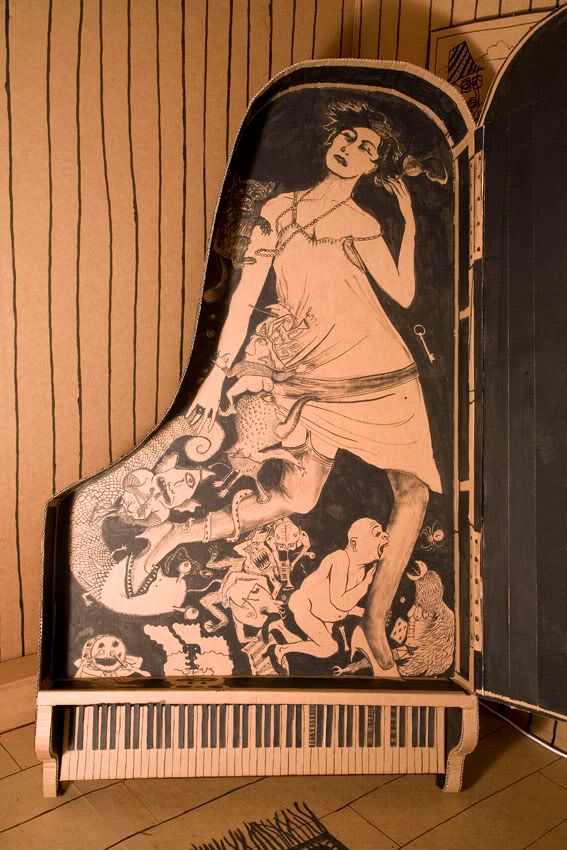 some FAQs - 
how many people did the giant canvases? Mainly Bianchi, Fox, Greene, and myself, and Bragg. Also as usual lots of friends and contributors dropped by and painted the odd thing...
how long did they take? all told probably something like 4 weeks. We did them on and off over a number of months.
Is the cardboard room really all cardboard? yes, no furniture inside a cardboard shell or anything, all 100% sturdy cardboard (well with the odd bolt to secure the inside of  the sofas & chairs etc)
How long did it take? a week to build, thanks to the help of a 7-strong team of super-efficient students.
what happened to the furniture after the exhibition? In storage at Le Gun HQ. I'm using the armchair I painted as my studio desk chair, yes it really is

that

comfortable...
Posted by

steph vr
at 12:00
1 comment:

Wednesday, 3 September 2008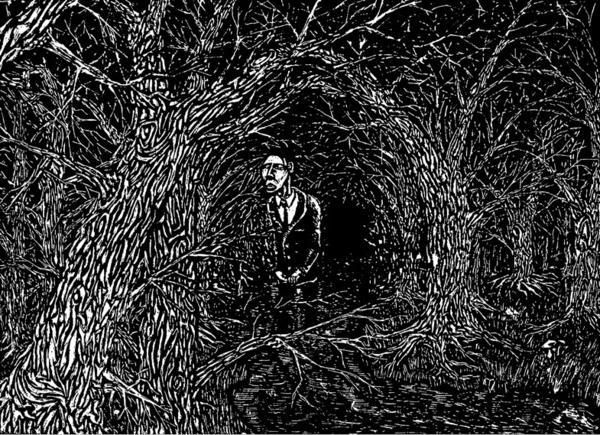 this young man makes some beautiful images, and will have a show at nog on brick lane starting September 14.
I initially got to know him through some obscure channels and had a postcard of his on my desk for a while - the image incidentally is now a spread in LE GUN 4 - and then got to know him properly when he helped tremendously in putting up the 'The Family' show. Go and check out his handywork -
his myspace is
http://www.myspace.com/jmfcasey
14 September – 8 October 2008
Nog Gallery, 182 Brick Lane, London E1 6SA, +44 (0)2077394134
Opening on Sunday 14 September 2008, 6 – 9 pm
Posted by

steph vr
at 11:57
No comments: